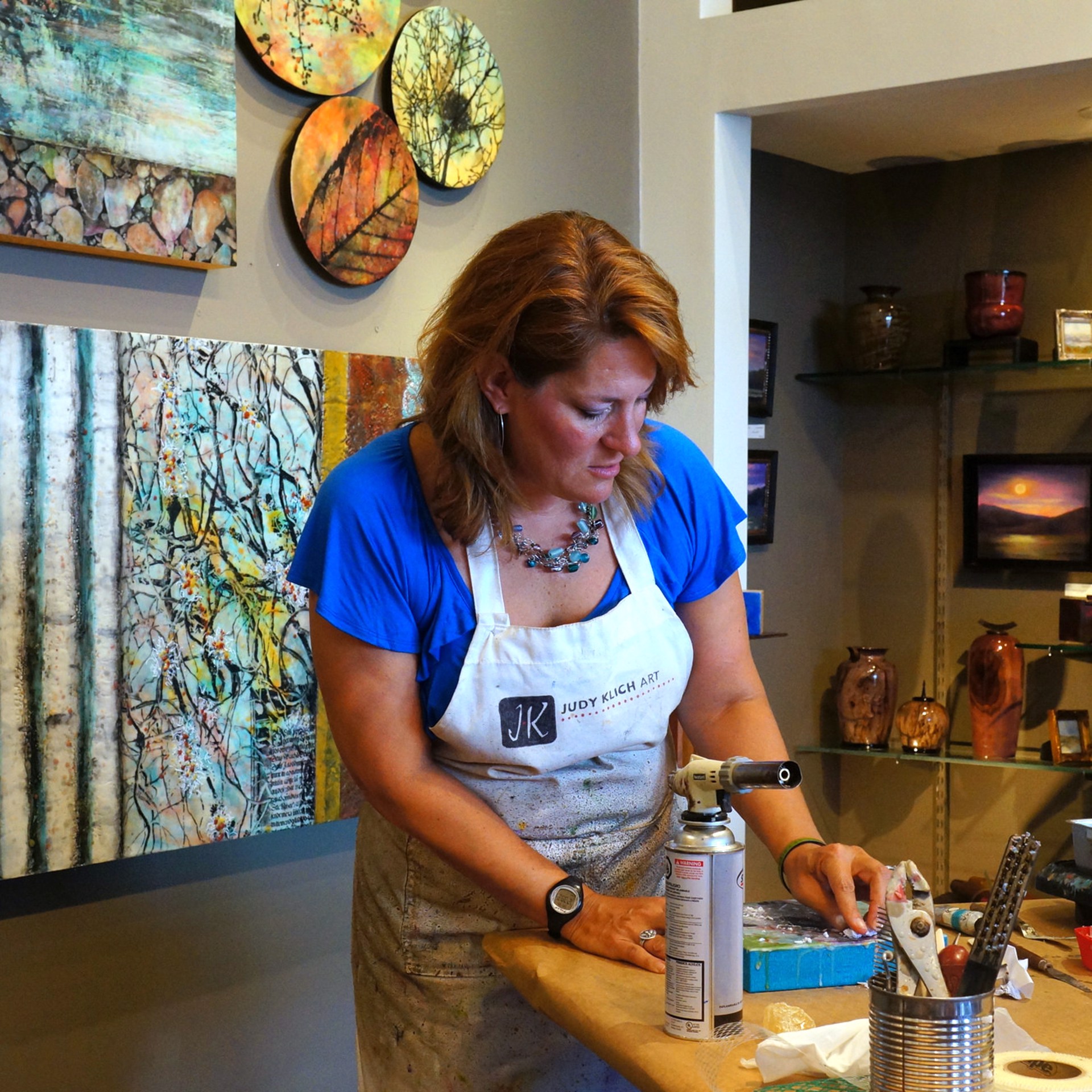 Tennessee
MFA Painting, Academy of Art University, San Francisco, CA
BS Interior Design, University of North Carolina, Greensboro, NC
After 18 years as a professional commercial designer, Judy decided to pursue her lifelong dream to be creative without parameters and paint bold abstract paintings. She is attaining a Master of Fine Arts degree at the Academy of Art University in San Francisco and will graduate in May 2011.
Judy has exhibited in numerous group shows and she has also been selected for juried shows.
Pursuing peace and joy is synonymous with creating expressive works of art. As a busy wife, mother, and teacher, I often get so caught up in daily life that I take for granted the surrounding beauty. In my art, I search for a calming balance for my "busyness." Often, a quick glance out the window sparks inspiration, as nature's changing seasons offer the comforting and predictable cycles of life, death and rebirth. Contemplating on such aspects begins the creative process, which calms me and offers serene escape from the constant motion and demands of daily responsibilities.
Encaustic is an ancient medium with a renewed popularity. It is environmentally friendly and resistant to mold, mildew and dust. Painting with wax dates back to 3000 B.C. and has proven to last indefinitely. Organic beeswax is combined with dammar resin which is a natural sap from Asian pine trees to create encaustic medium. I paint on all natural wooden panels and use a lot of found collage materials as well as tools that have been repurposed.
I use a multi-sensory and multi-layered approach, which creates complex and juxtaposed references of nature in painted elements, transferred drawings and photographs. Layers of rich, deep colors create a smooth translucent surface, while heavily three-dimensionally textured areas intrigue and beckon the viewer. I find the beeswax's aroma magical and its physical properties (when fired, cooled, and reworked) unlike any other art medium. Manipulating the wax makes it lifelike, as it cools quickly but can be reworked with endless possibilities. The finished product is translucent and textured layers with embedded elements are that often "hidden" within.
A recurring theme of "calm versus chaos" is prominent in my work. Natural and organic textures combined with geometric elements in abstract landscapes tell emotional stories of places I have been or seen. I am intrigued by geometry because of the repetition and mathematical order as it draws from my past experience as a designer where everything is arranged and has a place.
Encaustic is the perfect expressive format for this theme—the very theme of my life, it seems—as it is a hallmark contradiction by its very nature: controlled yet unpredictable; simplistic yet complicated; restrained yet uninhibited. Encaustic art captures visually my personal quest for balance.
Read More