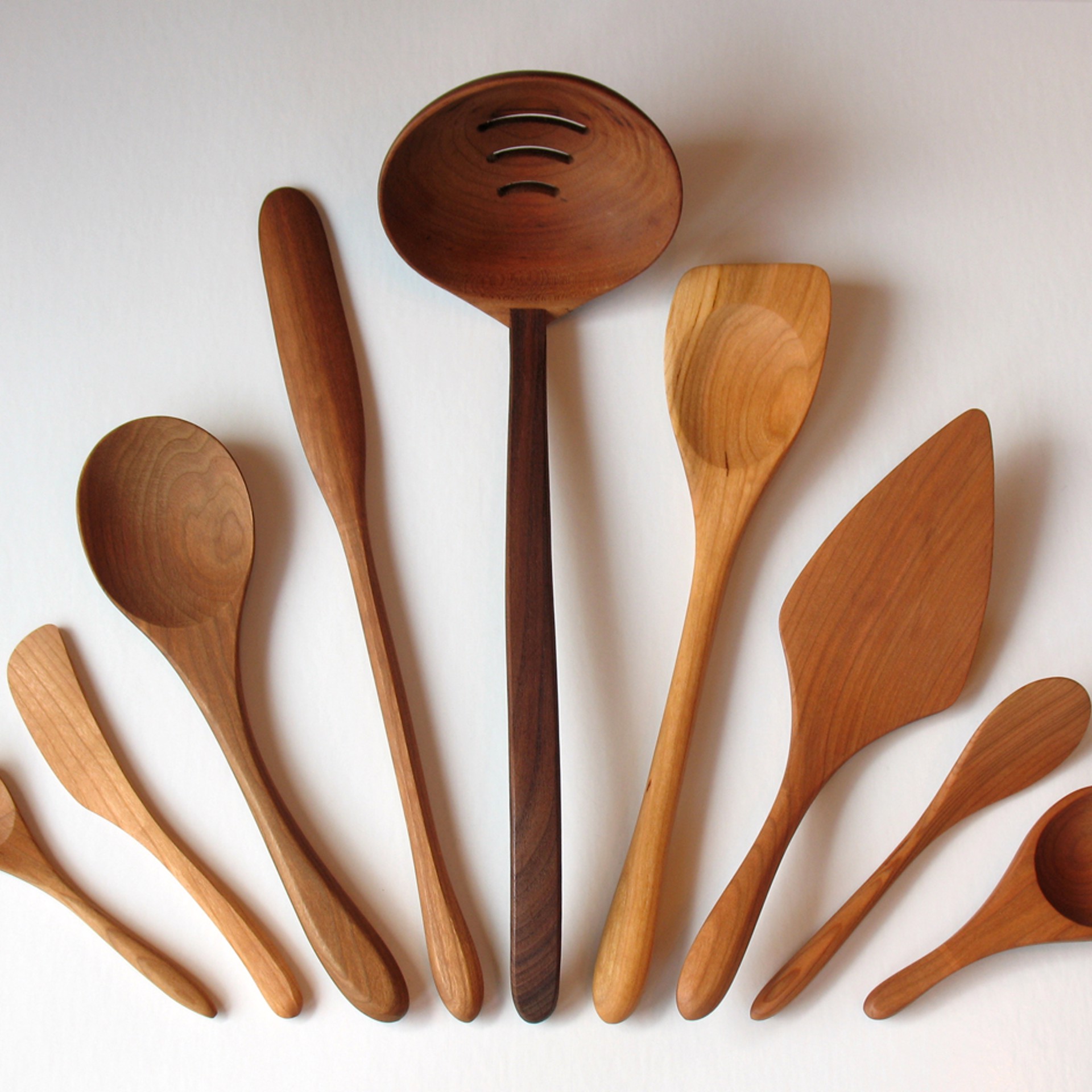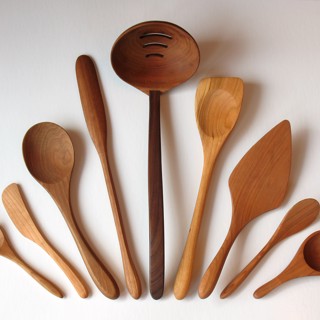 Pennsylvania
Wooden spoons are some of the simplest tools in our homes, and yet the design possibilities for these useful items are endless as Jonathan Spoon has proven with his creative, collectable utensils. It all began when he forgot to put a spoon in his lunch bag while he was working as an apprentice to a furniture maker. He grabbed a piece of scrap wood and shaped a spoon out of it. Now with 28 years of experience and experimenting in the woodshop and kitchen, he has created a line of tableware that serves as both an original handmade work of art and a fully functioning tool. "Spoons" became spatulas, tongs, spaghetti forks, and more. They can do anything at the table or stove from spreading or scooping to straining, whisking, peeling, and pouring. All of his utensils are handmade of cherry wood, which he chose for its beauty as well as its smooth quality and its durability.
Rachael Rae of Food network featured Jonathan's Lazy Spoon as one of the six items in her kitchen which she could not live without when she was on The Oprah Winfrey Show last February. Jonathan also had a feature article last September's "O The Oprah Magazine."
While at work one day in 1977 I had a thermos of hot soup for lunch, but no spoon. I cut one from a scrap of wood using a bandsaw and have been creating wooden kitchen utensils ever since. I find their simplicity makes them a pleasure to craft. I love making spoons. There are unlimited varieties of uses and designs to explore, yet they remain the simplest tools of the home.
My designs are crafted with quality, balance, and usefulness in mind. They are cut from select cherry wood and carefully sanded so they are smooth and soft in your hand. Clear mineral oil is rubbed into the wood, enhancing its warm, natural color. My spoons will serve you with pleasure for many years.
Read More